Tokyo Supercars maintains a growing fleet of supercars including Lamborghini, Ferrari, Rolls-Royce, Aston Martin and McLaren. Luxury Card members can take this opportunity to drive these high-performance machines via driving experiences and car sharing.
Luxury Card privilege
Privilege for all Luxury Card members
1) Supercar driving experience
30% discount on regular pricing for driving experiences
Examples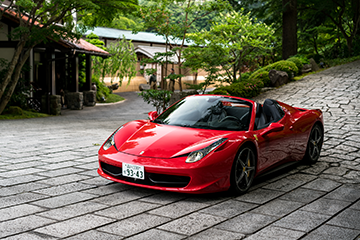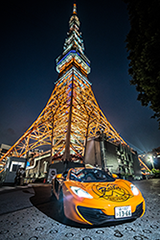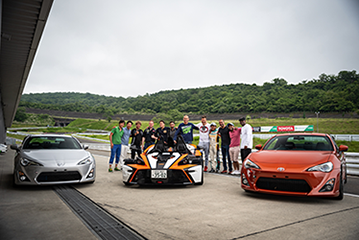 Seminar drive
(regular price: JPY 10,000/person)

Driving experience within the city with driving seminar included.*1
City drive
(regular price: JPY 55,000/vehicle)

Drive over Rainbow Bridge and through Odaiba's scenic views at night.*2
Hakone super tour
(regular price: JPY 80,000/person)

Driving event from Ebisu to Hakone where a group of supercars travel together. During the tour, able to experience driving multiple supercars.*3
Race circuit
(regular price: JPY 50,000~140,000/person)

Opportunity to experience driving on actual circuit track at Fuji Speedway in Toyota GT86. Ability to add option to drive a supercar roundtrip to the circuit (est. 1.5 hour driving time).
World X Series Rally Japan (pricing varies by experience type)

Part of the global X Series Rally, the inaugural event in Japan will be held in November 2018.
More details here
*1 Regular price for participation in networking event is JPY 5,000
*2 When 2 drivers are participating, cost per person is JPY 27,500
*3 Price varies when using own vehicle
Additional information as well as details about other driving experiences here
2) Car sharing (member registration required)
Ability to use any of the 10+ supercars from the fleet. Not "wa" license plate, hence no need to worry about being perceived as driving a rental car.
On Demand membership privilege

First year annual fee of JPY 100,000 waived, 5% discount thereafter for renewal
Value membership privilege

Those registering for Value membership*receive not only are waived the first year annual fee of JPY 100,000 but receive complimentary additional days of supercar usage rights

*Membership that requires purchase of points in advance that can be used to redeem for car sharing and driving experiences
Silver membership: 1 complimentary day
Gold membership: 2 complimentary days
Black membership: 3 complimentary days
Car sharing details here
Gold Card benefit
*To commemorate the new partnership, Black Card members are eligible for the benefit through Dec. 2018
Car sharing privilege for 8 cardmembers every month on first-come-first-served basis (membership registration required)
Car sharing privilege usage flow
For those who have already completed membership application:
Please contact Tokyo Supercars directly and mention you are calling to book the Luxury Card-exclusive car sharing privilege. Please be ready to mention your desired date of booking.
Please contact Tokyo Supercars via telephone or online form. For latter, Tokyo Supercars staff will contact you within 24 hours of receipt of the online form.
※ Each cardmember is eligible to use this service one time only during the service period.
For those who have not yet registered to become a member yet:
Please complete the membership application process as below:
Please participate in at least one driving experience by contacting Tokyo Supercars directly for booking

※ For those who plan to register in a driving experience for the purpose of using the car sharing privilege, the fee will be half of the regular price

※ If booking for 2 persons, the per person cost will be further cut by half

Eg JPY 55,000 city driving experience will be JPY 27,500 for one person, JPY 13,750 per person if registering for 2 participating drivers

Post participation in a driving experience, Tokyo Supercars staff will contact you for interview to complete the application process.

*For current supercar owners, there is no need to complete the driving experience. Please provide a copy of vehicle inspection certificate as proof of ownership instead.

Upon passing the membership application process, please make reservation for car sharing benefit (first-come-first-served basis every month for 8 cardmembers)
Driving experience and car sharing reservation booking
Tokyo Supercars Service Desk
03-5789-5163
(9:00~17:00, closed Sat-Sun and holidays)
Online reservation form
Privilege Validity Period
Through March 31, 2019 (Sun)
Notes
・Supplementary cardmembers are also eligible to use this service.
・Please pay with your Luxury Card.
・All pricing listed are inclusive of consumption tax.
・For cancellation after reservation booking, please call Tokyo Supercars Service Desk at 03-5789-5163 (9:00~17:00, closed Sat-Sun and holidays).
・This service is subject to change or cancellation without notice.
・Black Card Ⅰ KK is exempt from any damages that may arise when using this service or services provided by other facilities.