Incidental Insurance Incidental Insurance Support for illness or injury during travel provided as well as for expenses incurred due to delayed flights. Eligible card:
Travel Accident Insurance
From illness or injury at your destination to damage to your personal effects and flight delays, we provide a wide range of support for cardholder peace of mind and security.
Overseas travel accident insurance automatically includes incidentals.
For domestic travel accident insurance, incidentals are included when you experience 1 to 3 below when Luxury Card was used for payment.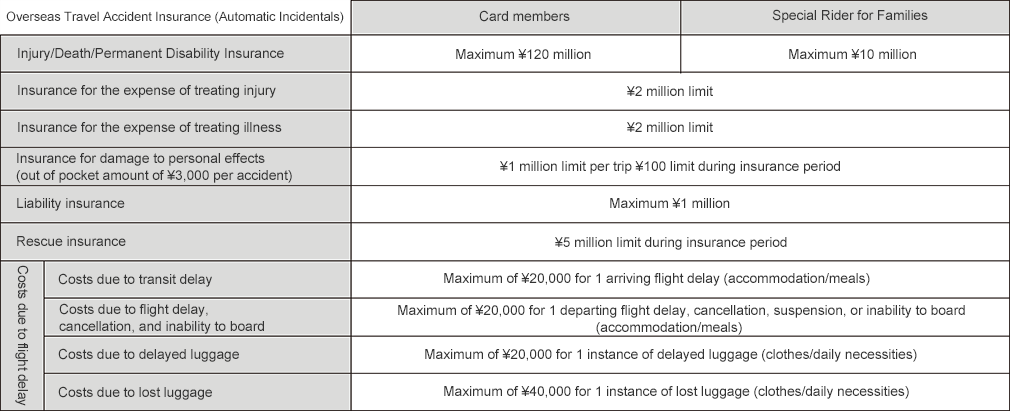 ◆Special Rider for Families
Only for Luxury Card holders' family members living together.
*Family members are defined as blood relatives within six degrees of kinship or in-laws within three degrees of kinship.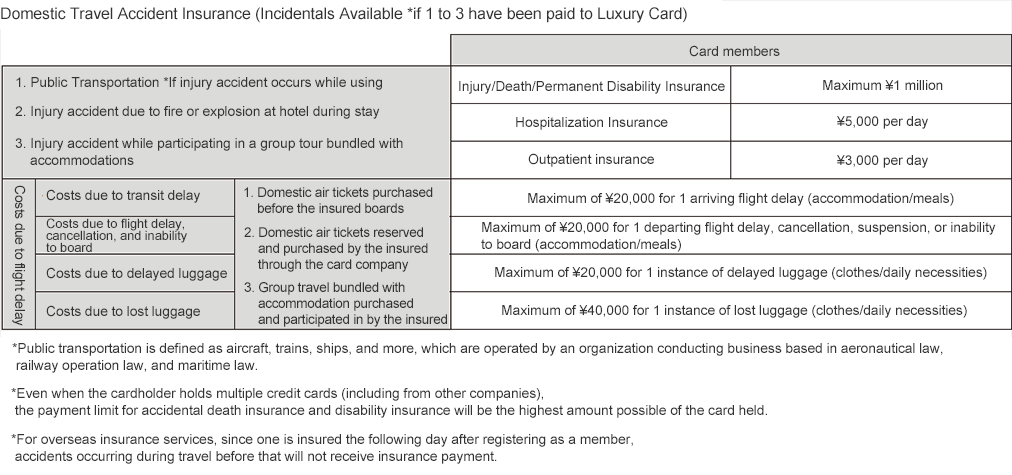 Shopping Protection Insurance
Whether shopping in Japan or overseas, you will be compensated for damages or theft for items purchased with Luxury Card up to ¥3 million per year.

Traffic Accident Insurance/Liability InsuranceEligible card:
If you are killed or disabled due to a traffic accident, you will be compensated up to ¥100 million for legal liabilities incurred during everyday life.
Compensation for Unauthorized Card Use
In the unlikely event that the cardholder suffers damages from unauthorized card usage, we will compensate partial or full amount of the damages.
(However, this is only when we have determined upon set procedures and investigation that there has been no gross negligence by the customer.)